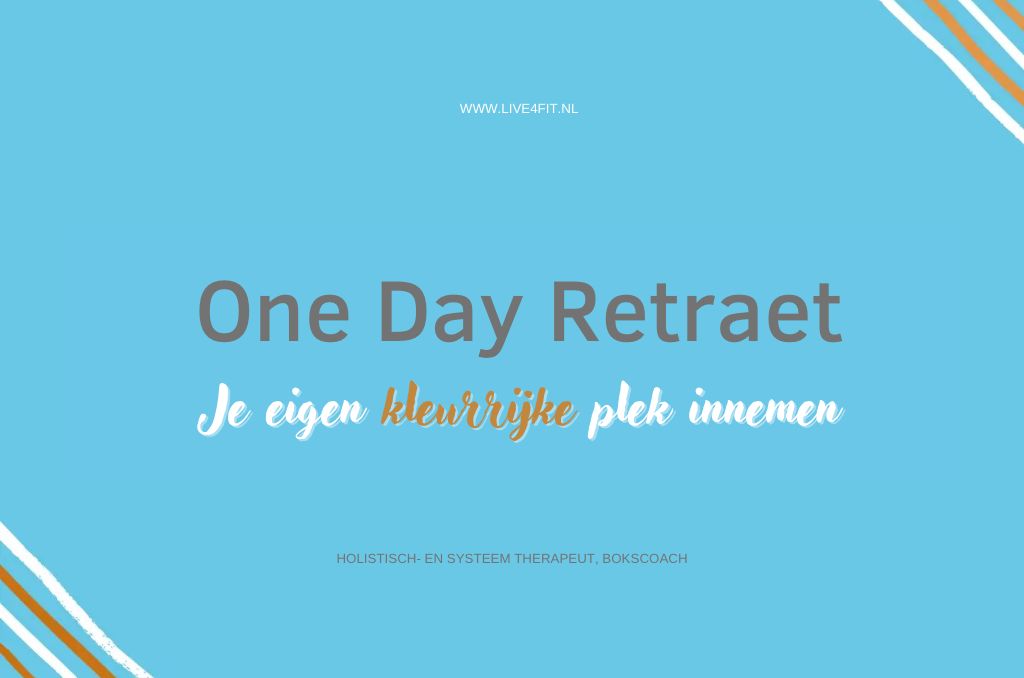 One Day Retreat – Je eigen kleurrijke plek innemen
Door bepaalde gebeurtenissen of dynamieken in jouw (familie) systeem kan het zijn dat het niet eenvoudig is om je eigen kleurrijke plek in te nemen. Het kan zijn dat je hierdoor de verantwoordelijkheid 1) teveel neemt, 2) van anderen oppakt of 3) ontloopt. Er is speciaal voor jou een unieke plek in het systeem. Juist wanneer jij 'goed' staat, gecombineerd met het verhogen van je (zelf)bewustzijn accepteer je jezelf volledig, ben je trouw aan jezelf en zet je vanuit je innerlijke kracht stappen wat voor jou belangrijk is.
In de training: Je kleurrijke eigen plek innemen, starten we met het bewust worden van jouw gedrag, kwaliteiten, talenten, valkuilen, uitdagingen en patronen. Je gaat jezelf ontdekken in wie je bent, wat je wilt, waarom je doet wat je doet én hoe jij weer aan het roer kan staan van je leven.
Met een 40-tal uiteenlopende vragen in een online vragenlijst, die zowel je ratio, je onderbewuste als je gevoel aanspreken, komen we tot een kleurrijke uitkomst van jouw Eigenheid. Met deze analyse meet, ontwikkel en maak je jouw kleurrijke Eigenheid Zichtbaar. Met speelse werkvormen, diepgang en praktische opdrachten vergroot jij je zelfkennis.
In het tweede deel ga je écht je plek innemen tijdens de familie opstelling want wanneer jij op je eigen plek staat in je familiesysteem ben je het krachtigst en ontwikkel je nóg meer je Eigenheid. Je vindt rust en accepteert dat wat is. Je laat los wat van de ander is en ziet onder ogen wat van jou is. Hiermee stel je grenzen, blijf je in verbinding en neem je verantwoordelijk voor jouw leven. Je leert 'ja' te zeggen tegen al het goede en het minder goede wat er is.
Deelnemen aan deze training verbetert de relatie met jezelf en de omgeving.
Praktische informatie:
Data: 25 februari & 15 april van 10:00-16:00
Locatie: Pandje 14, Zevenaar
Prijs: 333,- incl. BTW
Meld je aan via: livefourfit@gmail.com
Dit is inclusief koffie, thee, water, lunch en Eigenheidboek
Liefs Charissa, Sanne en Jeanet
Meer informatie over deze bijzondere training vind je ook op onze facebook en instagram pagina.